Big Din 2007
---
---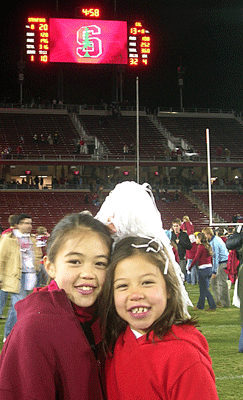 ---
We gathered with trepidation, afraid the next day would bring no elation; But soon good friends and find food had us back in a Big Game festive mood!
And, at least one new tradition has been established: The Bellomy Clan, being appropriately embarrassed by their absence, donated a modest sum to the pre-Big Din drinking fund ...
Again at Sundance, Palo Alto, CA
Photos from Rick and Meg
---
It was the perfect location for Big Tailgater!
Photos from Mike & Meg
---
And, the Perfect Big Game - the first Big Game in the new stadium; Jim Harbaugh's first Big Game...
Photos from Mike & Meg
Kevin Hurle, noted Sera House resident of the late 70's remarked that this was the longest "All Right Now" jam he had heard the band play since the days when chemical supplements helped the band play longer...
---
send comments to Mike